Alex Slater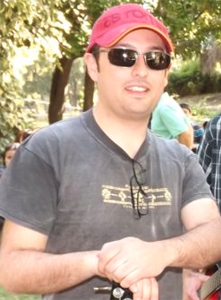 Alex Slater, M.Sc.
PhD student, Bioinformatics course instructor
Phone: +56 (2) 354-1918
Email: awslater@gmail.com (awslater null@null gmail NULL.com)
Research project:
Sequence / Structure / Function relationship in protein families
Structural comparison of proteins.
Selected publications:
1)    "StAR: a simple tool for the statistical comparison of ROC curves" (2008) BMC Bioinformatics 9, 265, 1-11 Vergara, I.A, Norambuena, T., Ferrada, E., Slater, A.W. and Melo, F.
2)    "Novel-ketoglutarate dioxygenase tfdA related genes are found in soil DNA after exposure to phenoxyalkanoic herbicides" (2010) Environmental Microbiology 12, 2411-2425. Gacitua, M.C., Slater, A.W., Melo, F., Gonzalez, B.
3)    "Expression of Transposable Elements in Neural Tissues during Xenopus development" (2011) PLoS One 6(7):e22569. Faunes, F., Sanchez, N., Moreno, M., Olivares, G., Lee-Liu, D., Almonacid, L., Slater, A.W., Norambuena, T., Taft, R.J., Mattick, J.S., Melo, F. and Larrain, J.
4)    "Annotation of putative AraC/XylS-family transcription factors of known structure but unknown function" (2012) Journal of Biomedicine and Biotechnology 2012, 1-14. doi:10.1155/2012/103132. Schueller, A., Slater, A.W., Norambuena, T., Cifuentes, J.J., Almonacid, L.I. and Melo, F.
Selected talks and posters:
1)    Slater A.W., Ferrada E., and Melo F. Effective atomic interactions for the characterization of protein-ligand binding interfaces. In: 17th Annual International conference ISMB, Stockholm, Sweden (2009)
2)    Slater A.W. and Melo F. Structural comparison and classification of the catalytic domain in DNA polymerases In: ISCB Latin American Conference, Montevideo, Uruguay (2010)
3)    Slater A.W. and Melo F. Standardized comparison of structural alignments of catalytic domains in DNA polymerases from different methods. Slater, A.W., Melo, F. XXXIV Reunión Sociedad Bioquímica de Chile, Valdivia, Chile. (2011)